iC3D's All-in-One Delivers Surprise Benefits for Packaging Prepress
When shrink-sleeve specialist Osiopack decided to look for new software to visualize pre-distortion of packaging quickly and accurately, the choice of iC3D was straightforward. What the company did not expect, however, were the additional features of the all-in-one application that would transform their day-to-day operation, provide new mockup flexibility, and wow clients.
With a broad client base spanning the food, beverage and pharmaceutical sectors, Osiopack was founded in 1996 to provide rotogravure-printed flexible packaging materials to consumer product manufacturers. Based in Anaheim, CA., the company produces primarily shrink sleeves, bar wraps and stand-up pouches. In fact, shrink sleeves have become such an area of specialization that the company designed and developed its own high-speed automated shrink sleeve labeling systems.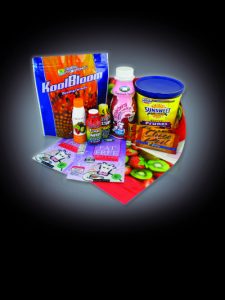 Osiopack's exclusive focus on gravure reflects an uncompromising dedication to the quality of its print. Of course, with deadlines continually shortening while the range of products required adaptation and diversification, maintaining this quality and matching it in all aspects of service becomes increasingly important
Tony McCash, Graphics Manager at Osiopack, is on the front line when it comes to managing many of these new challenges to keep processes flowing efficiently. As the person responsible for intake of customer graphics, pre-press set-up, color accuracy, and coordination with Osiopack's print partners in South Korea, if there are mishaps or anomalies on the horizon, it is essential that he finds them first.
Visual communication is a critical element in the process, according to McCash, "When you're working in shrink film almost exclusively, the ability to accurately visualize pre-distorted artwork is essential for identifying any issues." What makes it even more challenging for McCash is that among Osiopack clients there's no such thing as a standard product shape. "Every single client has a unique and distinctive bottle shape."
McCash used to rely on a leading visualization software for showing distortion correction, outputting to PDF. This was "good enough" but when the license was due for costly renewal, he decided to explore alternatives. His investigations led to iC3D and McCash was immediately impressed by the ease and speed of its undistort feature for simulating the effects of distortion caused by the shrink process and enabling "correction" of artwork to address the behavioral characteristics. When mapping to a shrink surface, the system "pre-distorts" artwork so it appears normal when the package or prototype is constructed. iC3D then exports the pre-distorted art back to Illustrator for final output and production.
Accurate simulation of printing on shrink film was so crucial to Osiopack's core business that, once questions of cost, support, and upgradeability had been happily dispensed with, the decision in favor of iC3D was made for that capability alone. At this point, McCash had given little attention to the vast range of additional features which are all included in iC3D's single, all-in-one platform.
The Shape of Things to Come
"The advanced 3D shape modelling capabilities of iC3D are a benefit I hadn't even hoped for," comments McCash. "The ability to create custom shapes, and in particular non-cylindrical bottles, has rapidly become an indispensable tool. iC3D also allows for importing of many 3D formats, which has allowed me to simulate all different sorts of bottles and packs I couldn't even get close to before. "
iC3D's Shape Modeller feature has been developed to enable any packaging shape, no matter how complex, to be created quickly and easily, and visualized in real-time. STL files can be imported, and 3D models can be edited selectively; displacement mapping also makes it straightforward to add distortions to the surface of the model – to create embossing or debossing, for example. The flexibility of these combined features makes iC3D universally viable for any client, any application, and any new, still-to-be-imagined creative designs to follow.
"With every Osiopack client introducing unique bottles and continually designing products to be ahead of the trend, we're future-proofed for whatever shape innovations are to come," adds McCash.
Wowing in 360 Degrees
Shape versatility has not been the only extra benefit of iC3D to impress Osiopack and its clients. According to McCash, iC3D's cloud-based viewing platform, Opsis, is more than a complement to the realism and technical accuracy of the mockups produced. It brings practicality, convenience and flexibility to day-to-day operations.
iC3D Opsis can be accessed via any web browser on a desktop, laptop, tablet or smartphone to allow simultaneous viewing and collaboration by multiple stakeholders. For Osiopack, this means that McCash can share the preparation of artwork with clients in real-time, enabling them to watch the distortion process as it happens and in 360-degrees.
McCash says, "Since switching to iC3D, clients have been very pleased with the quick turnaround times for proofing artwork, but probably the most enthusiastic feedback has been in relation to Opsis," comments McCash. "The usual response to seeing the distortion in action for the first time is 'Wow, that is so cool!'."
Summing up Osiopack's experience to date with iC3D and its reseller CGS Publishing Technologies, McCash is clearly impressed. "The sales support and service from CGS has been excellent. They took the time to fully understand my needs and make sure I was totally at ease with all the features and capabilities. I was up and running from day one without a hitch."