With Labelexpo Americas only days away, packaging industry experts are focusing on the "how" of label design and production. That is as it should be. But label and packaging pros should also be aware of market forces. Lately, product label transparency is one such force.
I don't mean literal transparency. iC3D does give designers the ability to control the transparent appearance of label artwork and 3D model surfaces. But for the purposes of this blog, I'm talking about transparency of product information.
Product labels have inherent potential for conflict. Consumer demand for helpful, truthful information can be at odds with a manufacturer's need to advertise and persuade. In many cases, the government enforces label content, as we discussed in a recent blog. Recently, however, consumers tend to want more.
Transparency and ROI
On August 30, Label Insight, a cloud-based data refinery for product information, released a new report on the value of product transparency. Based on a survey of over 2,000 consumers, the study links transparency about a product to increased consumer trust, brand loyalty, and revenue growth. Highlights from the report, Driving Long-Term Trust and Loyalty Through Transparency, include:
94% of respondents said they are likely to be loyal to a brand that offers complete transparency, with 81% indicating they would be willing to try the entire portfolio of that brand's products.
73% of all respondents said they would pay more for a product that provided full transparency, with 86% of "millennial moms" (18-34-year-old women with children) indicating they would pay more for completely transparent food products.
How Much Information—and Where to Find It
The study identified many different types of information needed to establish this level of consumer trust. These include ingredients and health-related information, social claims (e.g., environmental sustainability,) and even tips on preparation of use. Clearly, all that information won't fit on the label itself. (More on that later.) So, Label Insight is actively supporting the SmartLabel approach developed by a group of consumer companies and associations in 2015.
According to the Label Insight study, 53% of the important "millennial moms" demographic prefer to access product information via mobile devices. This parallels many other consumer research highlighting the importance of mobile in the shopping experience.

The basic idea behind SmartLabel is to use standardized, mobile-optimized webpages, accessible via a Google search of the brand, or by scanning a stylized QR Code or entering a shortened URL in a browser. According to their website, SmartLabel is planning to certify mobile apps. These will presumably simplify the search and scanning process.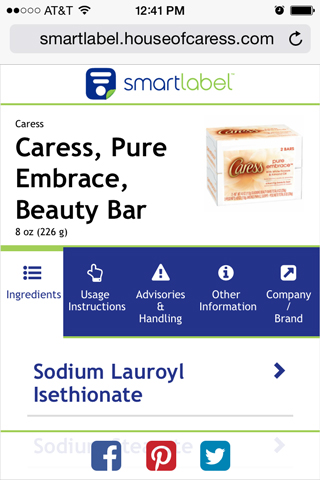 SmartLabel web pages display information required for full product transparency. These can include ingredients, nutrition and allergen information, usage instructions, advisory information, and a host of other data, including GMO and sustainability disclosures. Hellmann's/Unilever and other brands have already posted SmartLabel pages. As product label transparency gains momentum, many more will follow.
The Impact on Label Design
If Label Insight and others are correct, SmartLabel mobile information will become commonplace. But sooner or later it will have to become standard practice for the physical label — and for in-store display signage. Savvy brand marketers will make sure their labels advertise transparency and make it easy to use. That will have a big effect on label design.
As we discussed last month, many consumers resist scanning QR Codes. This is mostly because of misuse (and bad mobile experiences) in ill-advised marketing campaigns over the past 10 years. Entering shortened URLs or doing Google searches is somewhat better, but still not ideal. SmartLabel's plans to certify mobile apps are encouraging. But ultimately the physical label itself must be used to promote widespread use.
Packaging and labels are a visual medium. In-store consumers are its "viewing audience." Brands have to design, fine-tune, and test SmartLabel identifiers and scanable elements—just like any other part of a package or label. Preferably brands should be able to do this without expensive physical prototypes.
The good news is that iC3D is the ideal environment for doing just that—in virtual, 3D space. As companies like Label Insight build support for greater information disclosure, designers can create the ideal "digital gateways" for product label transparency.