Cyber Graphics uses iC3D from Creative Edge Software to explore compelling new consumer packaging and store display ideas—quickly and efficiently.
The packaging industry is complicated. Every consumer package on a store shelf is the result of scores of decisions by multiple stakeholders. Brand and marketing managers, designers, agencies, logistics managers, and even legal teams must agree on a package that is both practical and attractive enough to influence a buyer decision. Studies have shown that the window for such a decision is only a few seconds long.[1] So every decision point in the packaging supply chain contains a potential for error that could cost companies millions in lost sales.
For Cyber Graphics client Superior Automotive, using iC3D resulted in over $1 million in new business in less than a year.
One way smart companies reduce this risk is by creating and testing prototype packages. According to brand imaging company Kaleidoscope, prototyping "facilitates conversation and decision-making, drives efficiency into the process, and helps avoid potential speed bumps that could end up costing time and money."[2] Focus group responses to Design A or Design B—either as standalone pieces or on a simulated store shelf—can make all the difference.
The trouble is cost. Printing, assembling, and shipping a one-off prototype is a labor-intensive, manual process. Coordinating the test itself is expensive for even one product—not to mention the thousands being designed on a daily basis.
The answer is not to abandon the physical prototype, but to find a viable digital alternative—to be used whenever physical models are untenable. Packaging prototype power is a balance of the two.
The Virtual Alternative
For years, Cyber Graphics has been an ally to consumer brand companies across North America. From its four Midwest locations, the company provides a full range of services, including package design, product photography, prototyping, prepress, and flexographic plate-making.
The answer is not to abandon the physical prototype, but to find a viable digital alternative.
The prototyping aspect of the business is growing, according to Creative Director John Davis. Making physical prototypes for clients was limited by cost and time constraints, so they recently began exploring "virtual reality" alternatives, ultimately deciding to go with iC3D.
"We have always used prototypes to help our partners and clients sell new packaging concepts," Davis said, "but the cost of fabricating physical prototypes limits it to only a fraction of the potential. iC3D changed that. Because it creates truly accurate virtual prototypes, using iC3D means we don't need to create as many physical ones, which saves both time and money."
Expanding Business Opportunities
Cyber Graphics, and its parent company Bryce Corporation, have been actively using iC3D's virtual prototypes to help consumer product companies and their retailers make smart decisions. This includes a wide variety of individual 3D package designs and store shelf simulations. In many cases, these virtual prototypes are used in focus group studies, at a fraction of the cost of physical prototypes.
3D virtual prototypes effectively influence a purchase decision.
Case in point: Memphis-based Superior Automotive, supplier of products and accessories for traditional automotive retailers like AutoZone, O'Reilly Automotive, and Pep Boys. We spoke with Executive Vice President and Division Manager Randolph Sanchez about the process.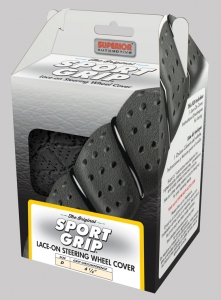 "Cyber Graphics introduced iC3D to us within the past year," he said, describing the redesign process for a number of 'legacy' products. "The old packaging was too large. Retail space is very competitive and limited, which makes it hard for us to get items in. We needed packages that were smaller and compelling. Cyber Graphics created 3D representations of the new designs. Without having to create anything physical, we were able to quickly build a shelf set to show our retailers." Sanchez estimated that using iC3D prototypes in sales presentations to its traditional automotive retailers has resulted in over $1 million in new business in less than a year—all without printing a single prototype.
Sanchez noted how effective 3D virtual prototypes were in influencing a purchase decision. "I sent a preview link to a buyer who was going back and forth with a purchase decision—not really knowing how the consumer would respond. When she saw all the products in a row in the store set, she immediately selected nine items to go into stock." Cyber Graphics and Superior use iC3D's opsis feature, which creates a secure link to preview fully interactive 3D displays over the Internet.
Store Shelf Simulation
Cyber Graphics and Superior are increasingly using iC3D's ability to combine multiple 3D models on a single, virtual shelf or display.
Using the program's perspective control, 2D photographs of actual display shelving and products (including those of competitors) can be combined with 3D models to create a realistic simulation of the store or other point of purchase.
"We're still creating physical store sets," Sanchez said, "but using 3D models for presentations has really paid off in sales situations. With online modeling, I can have Cyber Graphics create a virtual store set with, say, these five products at such-and-such an angle. Almost immediately, I have a graphic I can use on a website, in a presentation, or a sell sheet." Sanchez and Davis are both looking forward to using iC3D's new ray-tracing feature, which adds complete photo realism to individual package models and store display simulations.
A Perfect Partnership
Sanchez deeply appreciates the design services and expertise that Cyber Graphics provides. "We don't have an internal design team," he said. "so we're very pleased with the quality and production Cyber offers. Their use of 3D technology has really paid off for us. We've made presentations that have wowed our category managers. We can also send package files to be printed by our manufacturer with confidence that they'll come out right."
Sanchez and Davis are both looking forward to using iC3D's next update which adds a light map editor and ray-tracing feature to the all-in-one application. This minimizes the need for costly photo shoots by adding photo realism to 3D packaging models (including glass, liquids, metallics, and special material effects) and store display simulations.
---
[1]  Young, Eliot. "Packaging Research – Evaluating Consumer Reaction." Quirks Marketing Research Media. Quirk Enterprises, Inc., October 1987.
[2]  Galvez-Tuel, Trish. "Prototyping – Does It Really Make a Difference in Packaging Development?" The Lens. Kaleidoscope, 05 June 2014.